Applications
VIBRO FIN and SUPER FIN find applications in wide range of products due to its versatility. This finishing process will give great value addition at marginal extra cost.
Send your parts for trial processing in our lab & experience the difference.
Some of the parts processed are shown below.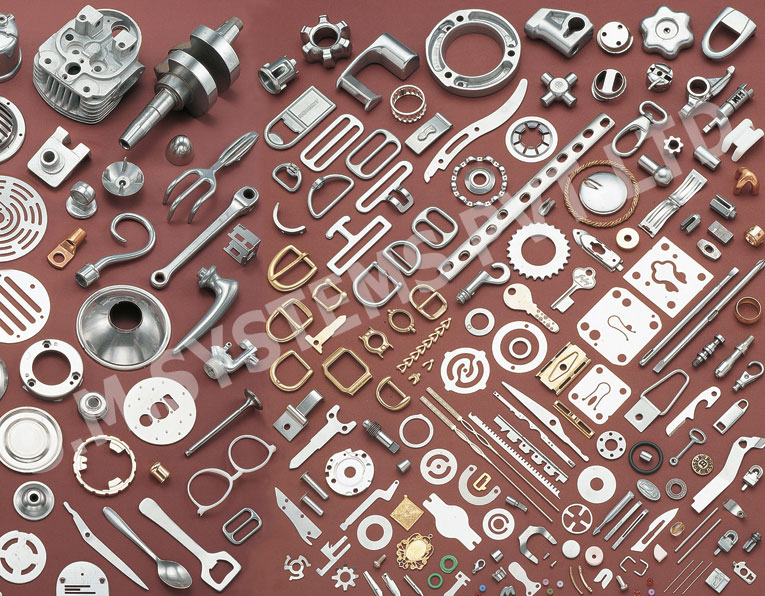 Application Matrix of VIBROFIN & SUPERFIN
Processes
Descaling
Edge Radiusing
Surface Smoothness
Polishing
Preplating Finish
Mirror Polishing
Ra Value Improvement
Degreasing
Drying
Delining
Buff Like Polish
Tile Ageing
Antique Finish
Satin Finish
Etc...
Metals
Steel
Aluminium
Zinc
Brass
Copper
Mazac
Alloys of all metals
Wood
Stone
Etc...
Parts
Pressed Parts
Punched Parts
Machined Parts
Sand/Gravity/Investment
Castings.
Pressure Die Castings
Forgings
CNC formed Parts.
Etc...
User Industries
Aluminium Die Casting
Areospace Components
Artificial Jewellery
Bearing Cages
Bearing Rollers
Bicycle Parts
Buckles (Belt & Shoe)
Cutlery
Engine Parts
Fasteners
Gears
Hand Tools
Hardware
Lock Parts
Lugs
Natural Stone
Silver & Gold Jewellery
Surgical/Orthopaedic Implants
Teeth Implants
Textile Machinery Components
Turbine Blades
Watch Components
Etc.